We've had the new Ruger LC9 for about 3 weeks now and have been waiting for a break in the medical tests for me, and also  a break in the nasty weather.
So, with limited time, ammo.. and more bad weather upon us.
The decision was made to to finally shoot the LC9, and to try out some DT and other loads in the 9mm, .38+P  LCR and new RAMI P.
Taking my small camera, we drove over to Lewiston, Idaho
and the Diamondback Shooting Range.
Knowing that I wanted this to be a test up some of today's
most serious defensive ammo at normally close up and personal distances.
Wanting a different type of target. We selected the Card-1 "Playing Cards" target.
First up was Nancy, and the LC9 loaded with 7 of the the superb Hornady 115 grain flex-tip FTX.
While sitting on a stool, she racked the slide and slid the nickel plated (case) FTX in the chamber.
5 rounds of that, and she was able to crank through the long and heavy DA only pull and get good [email protected] approx. 7 yard mark.
She then decided to remove her soft ear plugs and mess up her hair with some ear muffs.
The next two rounds were the Double Tap 147 gr. JHPs,
of which she then declared that..
A. the gun was very loud!
B. she didn't like the recoil and didn't wish to shoot it anymore.
I then took over control of the Ruger and slammed a fresh mag of Double Tap's
new 80 grain Barnes TAC-XP into the black as coal LC9.
 Lined up the small fixed sights on one of the small playing     cards and let  'er fly!
Recoil?
---------------------------
Being a slim single stack gun. I'd heard stores about harsh recoil and was expecting some stout or stinging palm recoil from a load that by DT specs, clocks over 1,500 fps in some guns!
Well.. I have to say that it was a real pussycat to shoot.
The DTs came screaming out and punched some nice 9mm holes in the target.
The best comparison that I can make is shooting the S. African
Police Service issue NGA Sentry tubular load through my RAMI
alloy framed carry gun of the past 8 years or so.
I've shot the Double Tap 115 gr. Barnes TAC-XP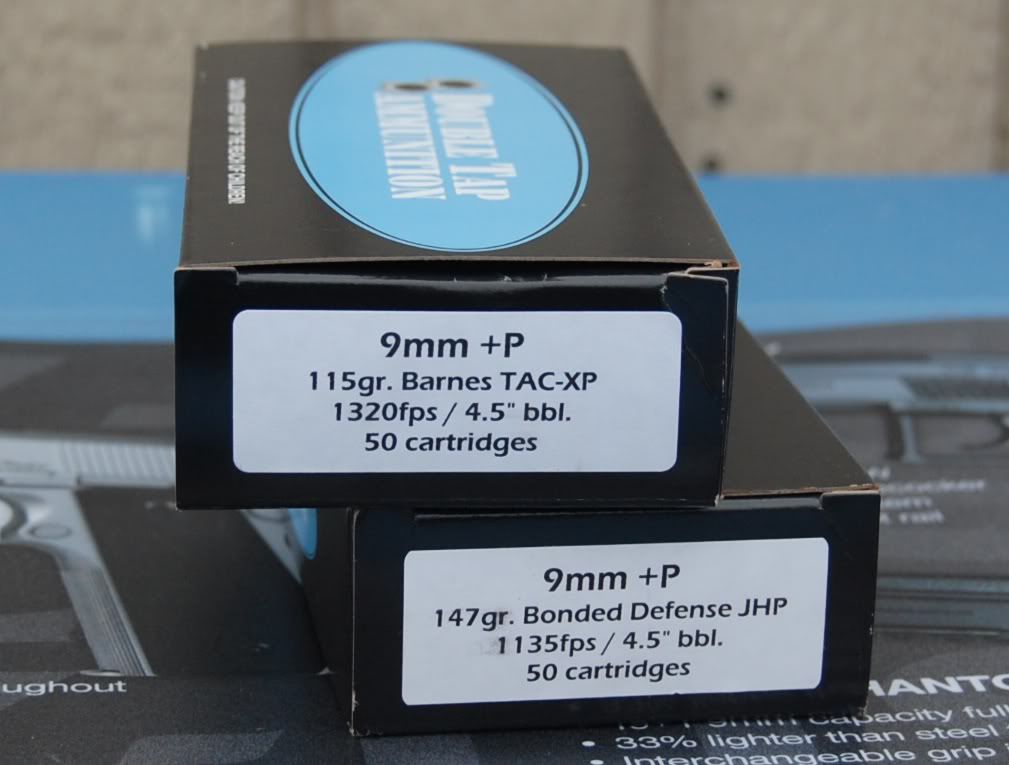 Out of my CZ P-01, but never in the smaller RAMI.
The LC9 showed  about the same recoil than both of the guns above, but you could tell you were hodling onto a slim polymer framed gun.
I did have to really stage the long DAO trigger to get good hits, but it wasn't too hard.
I then loaded up another 7 round mag and shot some more cards with this very impressive and accurate DT offering.
Next up was my Crimson Trace equipped Ruger LCR in .38+P.
Liking what I had experienced with the Double Tap Ammo and
the LC9.
I was a little leary of the recoil with the light LCR and DT's
110 gr. TAC-XP @ a published 1,140 fps.
I lined up a playing card and activated the red dot laser.
Cranking off 5 fast shots, I was able to place the rounds
exactly where the dot was for the most part.
Even though this was a close distance, I think it would have the
same [email protected] 15 or even 20 yards.
The little gun roared- but like with other loads tested.
I didn't see much of any muzzle flash from my end.
Nor, did the crappy lighting capture much in the photos.
5 more of the Double Tap went into the cylinders and
I was able to get good hits this time as well.
I noticed that recoil was mild in comparison to the 125 gr. Remington JHP, and Speer 158 gr. JHP that I  usually carry in this gun.
My next move was to load up 5 rounds of that Remmy load and
let loose.
The gun bucked in my hands noticeably more, and I had to really control it to gets as good of hits with the 110 gr. Barnes load.
Recoil was no fun with this load but I've shot enough of it to go with the flow as far as the
stinging of my palm.
Switching back to the Double Tap 38+P for another 5 rounds.
The smile on my face told the whole story, but there was more shooting ahead.
After setting the LCR and LC9 back in my CZ-USA range bag.
I then pulled my new ( to me ) customized RAMI P ( polymer frame) from concealment, and proceeded to pound the playing cards @15 yards this time.
Given the fact that I'd never shot the gun.
I was able to really get good hits with the 80 grain DT/Barnes
load.
The recoil was seemingly milder than say a 115 or 124 grain JHP from DT out of my alloy RAMI,
Nominal muzzle flip was there, yet not as dramatic as the photo might indicate.
The excellent trigger job and CZ85 Combat trigger that was installed on the gun- allowed to concentrate on the target and not the trigger.
Everything lined up sweetly- and I had a real fun time making a quick mag swap and firing 14 more TAC-XPs!
This portion of the target was among the best of all the groups fired. and can clearly demostrate that the DT loads as tested were far more accurate than I could shoot.
---------------------------------------------------------------------------------------------------------------
I think that overall..
The LC9 did well for reliability with all loads, as did the LCR and
my RAMI P.
Th recoil wasn't nearly what I expected, and I can truly see why:
A. Double Tap claims that this 80 gr.9mm+P and 110 gr. 38+P stuff is ideal for defensive carry, esp. in the smaller 9mms and .38 snubs.
B. People like the Barnes copper bullet technology for Hunting or Defense.
Proven in the field by hunters, and on the streets by cops
and armed citizens in TSX, and DPX form.
The Barnes TAC-XP and other designs by them have much to offer.
My plan is to get some rain free days.. and get into the woods and shoot some more next month.
I'll hopefully be doing a full Review on the RAMI P and testing these and other loads (esp.
the DT 147 gr. loads)  through my gun and new chrono.
For more information on the LC9 & LCR or other products mentioned here:
www.doubletapammo.com
www.ruger.com
www.cz-usa.com
www.hornady.com
www.letargets.com
www.czforum.com